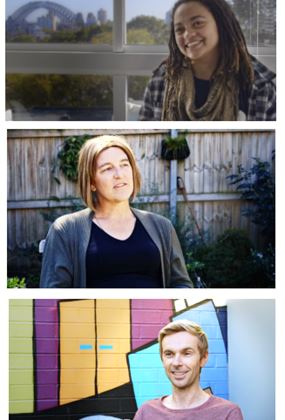 Rainbow Shorts - GPFF Online
Unclassified 18+
Unclassified 18+
119 Mins
A collection of Rainbow short films that represent the LGBTQ rainbow. Featuring 10 short films from around the world including Australia, Ireland, France, Colombia, Singapore, New Zealand, Brazil and more.
This session is presented on demand and will be available to view from 23 October to 3 November. Unclassified 18+ - you must be over 18 to purchase this on demand screening.
C
lick here for more information on streaming restrictions
and
click here for streaming FAQ
.
These films are diverse and fabulous mix. Some are funny, some are poignant, some are quirky, some are sexy! All are heart-warming, life affirming and thought provoking.
The Flag
A short film from Ireland. A contemplation of the colours of the pride flag. Mixing photography, film, archival footage and audio, The Flag reminds us of the journey of LGBT rights, and the hope and positivity of today and tomorrow. The Flag is one of several films from students from film schools around the world that the GPFF is featuring this year.
Directed by Amy O'Reilly, Ireland, 2019, 2 Mins, English
The Open
'The Open' is an Australian short that tells LGBT+ stories of 'coming out' and living openly. A celebration of being yourself, challenging stereotypes and embracing life.
Director: Caiti Galwey, Australia, 2019, 6 Mins, English
Darío
Darío, a 17-year-old boy from Barranquilla, Colombia has a passion for dance. He tries to keep it a secret from his mother, who is afraid that he won't grow up to be a "real man". Instead, she forces him to spend the day working in his uncle's shop. Will he be able to dance in the Carnival parade?
Director: Manuel Kinzer, Germany/Colombia, 2018, 15 Mins, Spanish with English subtitles
What do you see?
Born in Malaysia and now living in Australia, Sereena, a transfeminine dancer, performer, and photographer, poetically discusses her upbringing and trans (in)visibility—questioning the viewer, "What do you see?"
Director, Michael Bonner is a proud Yanyuwa-Jingili Aboriginal man from the Northern Territory of Australia. He has been working since 2011 as an Independent filmmaker.
Director: Michael Bonner, Australia, 2018, 5 Mins, English
After Midnight
Young couple Gabriel and Lucas move in together but is their passion enough to keep them together when they seem to want different things from their relationship? Sometimes happily ever after is not as we first imagine it to be.
Director: Mirela Kruel, Brazil, 2019, 12 Mins, Portuguese with English Subtitles, Unclassified 18+
1 Year
A letter to my 14 year old self. This film is the story of Salford University student Ben Hodge and a representation of his journey. "Every trans person has a different narrative. This is mine"
Director: Ben Hodge, United Kingdom, 2019, 4 Mins, English
Kiko's Saints
Kiko, a Japanese illustrator on assignment in France, gets suddenly overwhelmed by a strange inspiration, while she realises she's been spying on a gay couple on the beach next to the chapel where she's working. Obsessed by such a vision, she will spy on those men and draw them secretly. This will slowly push her towards an encounter that will change her life and breaks her social rules.
Director: Manuel Marmier, France, 2019, 25 Mins, French and Japanese with English Subtitles, Unclassified 18+
Altruistic
10 years ago in the UK, Steve and Ivan dreamt of having a child of their own. In an act of true altruism, Steve's sister Lorna came to the rescue.
Director: Emma Edwards, United Kingdom, 2018, 4 Mins, English
The Cream
Gilbert, a quirky young man, is out for a Sunday jog in the forest. When a muscular, athletic man passes him at tremendous speeds, Gilbert is left confused, curious and ultimately aroused by his secret.
Director Jean-Marie Villeneuve, France, 2015, 9 Mins
Gestation (featuring Malibu Stacey)
Gestation revolves around Jess Station, a cis-woman whose drag persona is a pregnant woman who breaks all the rules. The documentary delves into Jess Station's lifestyle in drag and explores the boundaries of gender and representation. Featuring Geelong's own Malibu Stacey!
Director: Pearly Tan, Singapore, 2019, 15 Mins, English
Repugnant
Grace must prove that her pray-away-the-gay dog therapy works by trying to "cure" Fergus the pug of his homosexuality. Fergus has other ideas.
Director: Kyan KRumdieck, New Zealand, 2018, 12 Mins, English