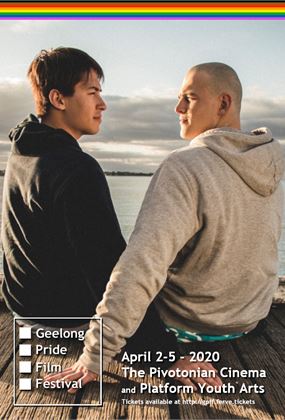 GPFF Program Launch 2020
Wed Mar 4 5:15 PM
Piano Bar Geelong
General Admission
Unclassified 15+
120 Mins
We have a limited number of tickets available to the Program Launch of the 2020 Geelong Pride Film Festival on Wednesday 4 March, 5:15pm.

Free event - Bookings essential as numbers are limited

This will be a chance to hear about the film festival, view a couple of fabulous short films and see trailers for the films we are presenting during our expanded festival from 2nd to 5th April. Our program launch is once again hosted and sponsored by the amazing team at Piano Bar Geelong.

This free event will also be an opportunity to acknowledge and thank our sponsors and supporters including Deakin University, the City of Greater Geelong, the Victorian Government, Provincial Media, Piano Bar, WorkSafe Victoria, Thorne Harbour Health, MQFF, The Pivotonian Cinema and Creative Geelong.

We are excited to be bringing a diverse range of contemporary feature films, documentaries and short films over four days in April this year.

Our Program Launch is sponsored by Piano Bar.
Piano Bar Geelong
26 Malop Street Geelong, Victoria, 3220