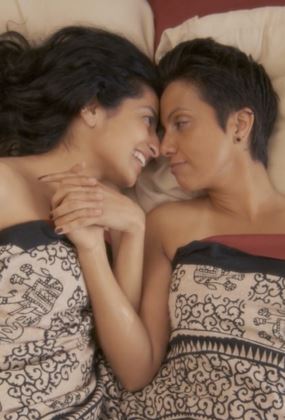 Happy Endings - Mixed Shorts - GPFF Online
Fri Oct 23 10:52 AM
Online
A collection of short films from around the world that have either a happy, uplifting or humorous ending.
This session is presented on demand and will be available to view from 23 October to 3 November. Unclassified 15+ - you must be over 15 to purchase or view this on demand screening. Click here for more information on streaming restrictions and click here for streaming FAQ.
Life is Fine
Lucas and Dante navigate life while Dante battles cancer. Together they continue to party, swim in the ocean and most importantly, be together. Life is Fine for Dante and Lucas, and when Lucas accepts that, Lucas and Dante celebrate the history they shared and their upcoming future: life together.
Life is Fine was filmed on location in the Geelong region on the Bellarine Peninsula and in Central Geelong. The filmmakers of 'Life is Fine' are the winners of the 2019 GPFF Uplift Award.
Director: Daniel Orfali, Australia, 2019, 7 Mins, English
6:23 AM
6:23am is a story of two women who met in a club early this morning, are watching the sun come up together, when one of them realises something which could ruin everything.
Boldly Go
A young gay man is hiding an embarrassing secret about his body. When a long-term crush begins seducing him at a party, he is forced to confront his shame and expose the truth, or risk losing the boy of his dreams.
Director: Christopher Cosgrove, Australia, 2019, 6 Mins, English, Unclassified 15+
Kelly
Kelly comes back to her childhood house after many years abroad to help her sister tidy for the estate agent. Tension is tangible as Andrea still hasn't come to terms with who her big brother, Dylan, has become. Amongst pictures of Dylan and objects that trigger moments long lost, Kelly and Andrea need to clear things up to start a new.
Director: Solène Guichard, Ireland, 2019, 13 Mins, English, Unclassified 15+
The Curse
While at a Halloween party preparing for the online hookup of a lifetime, things get a little weird after Kyle bumps into a witch in the bathroom.
Director: Dave Berenato, United States, 2018, 7 Mins, English, Unclassified 15+
The Choice
Devin is in a deteriorating relationship with Ashley when she meets Alex. Devin and Alex hit off immediately. Devin's best friend is Hannah wants Devin to be happy. Devin is left with a choice to stay with Ashely and work things out or choose what will make her happy.
Director: Lotte Twaalfhoven, Sweden, 2018, 13 Mins, English, Unclassified 15+
Heaven
A shy teenager attempts to manipulate a game of 'Seven Minutes in Heaven' so he can confess his feelings to the boy he is infatuated with.
Director: Sam McGowan, Australia, 2018, 7 Mins, English, Unclassified 15+
Misdirection
Camila is your average college freshman with obsessive-compulsive disorder and a big, gay crush on her roommate. After both situations come to a head in a near car crash, Cam is stuck trying to find a distraction. A chance encounter with a street magician teaches her to channel her misguided energy into a new hobby, and to open her heart to new possibilities.
Director: Carly Usdin, United States, 2019, 14 Mins, English, Unclassified 15+
Pretty Boy
Kevin is a teenager growing up in a rural neighbourhood. With the support of his partner and his sister, he becomes himself and learns that although not everyone in his life will accept him for who he is, there will always be others who will love him and fight for him.
Directors: Pierce Hadjinicola, Sinclair Suhood, Australia, 2020, 9 Mins, English, Unclassified 15+
I Know Her
In the afterglow of a seemingly fated hookup, two women realise that perhaps they have a little too much in common. Written and directed by the star of our 2018 audience favourite Signature Move, Fawzia Mirza.
Director: Fawzia Mirza, United States, 2019, 3 Mins, English, Unclassified 15+
Cocodrilo
Every afternoon, Alicia prepares a cup of tea and watches her favourite youtube channel: VictorGaming. An action video games channel. Victor, the youtuber, is streaming and answering questions from his fans. Alicia has a very important thing to say to him.
Director: Jorge Yúdice, Spain, 2019, 5 Mins, Spanish, Unclassified 15+