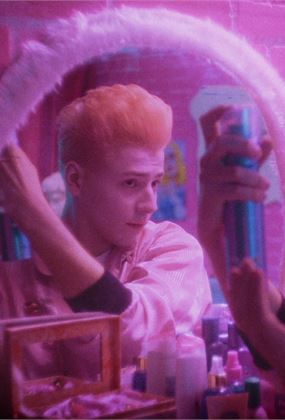 Rainbow Shorts - 2021
Thu Feb 11 7:00 PM
The Pivotonian Cinema
General Admission
Unclassified 15+
130 Mins
A collection of short films that celebrate the LGBTIQ+ rainbow. Presented as part of the Geelong Rainbow Festival in Partnership with Geelong Rainbow Inc.

Limited tickets available to allow for social distancing. Seating will be allocated to ensure distance between attendees.

Includes Interval

Three Triple As
Nervous-wreck Milly anxiously awaits a Skype-Sex call with her long distant girlfriend, only to be embarrassed that her attempt to 'spice things up' has gone horribly wrong. Director Lexy Anderson, United Kingdom, English, 8 mins.

Closets
Closets (Almariyaan) an Indian couple go to extra effort to learn about LGBTIQ+ issues to accept their son's sexuality and help make a comfortable environment for him to come out of " the closet" , but when the actual truth comes out, things don't quite go to plan. Director: Jiya Bhardwaj, India, Hindi with English Subtitles, 18 mins.

Abby and Emily Go To Palm Springs
A photographer and an army officer meet in a bar Abby and Emily come from opposite worlds yet have fallen hard and fast for each other in this modern lesbian love story. On their first vacation they must navigate their completely opposite love languages, which don't always translate well. Director: Hellin Kay, United States, English, 14 mins.

Delivery Boy
Local delivery boy Chunho falls in love after delivering dumplings to Eric, an American lawyer living in Hong Kong. Their love for food and cheesy 70s music bring them together, but the class difference between the two of them eventually gets in the way. Director: Hugo Kenzo, Hong Kong, English and Chinese with English subtitles, 15 mins.

Girlsboysmix
Documentary made from the perspective of an intersex child. It relates the story of Wen Long (9). Being intersex in a binary world, Wen Long wonders: where do I belong? Director: Lara Aerts, Netherlands, Dutch with English Subtitles, 6 mins.

I Am Me
A short film about Jazmine's journey as a Transgender, two spirited woman, living her best life and inspiring others to never give up. Director: Jazmine Smith, Canada, English, 5 mins

Leeway
A trans man Lee and his journey of self acceptance. Director: Roberto Nascimento, New Zealand, English, 3 mins.

Prince of Hearts
A modern fairytale about the search for love and validation. Director: Zino Bakker, Netherlands, Dutch with English subtitles, 25 mins.

Mergulhe em mim
An exploration of the space of the body, touch and sex for LGBTQIA+ people
Director: Daniel Zacariotti, Brazil, 3 mins

Taiwan Pride for the World
This year, more than 400 pride events around the world were canceled because of the Covid-19 pandemic. But Taiwan was able to host a pride parade for the world. Director: Larry Tung, Taiwan, English, 3 mins.

The Night of the Butterfly
Installed in their comfortable cocoon, a couple spends an ordinary vacation on the French Riviera. During a nightclub night, the young woman's attention is focused on an unknown carefree and uninhibited young woman.
Director: Nicolas Paban, France, 15 mins.

I Don't Know
Uncertainty is created when a young woman suggests that her boyfriend kiss his best friend.
Director: Jérémy Barlozzo, France, French with English subtitles, 14 mins

and more..





The Pivotonian Cinema
4 Verner Street South Geelong, Victoria, 3220